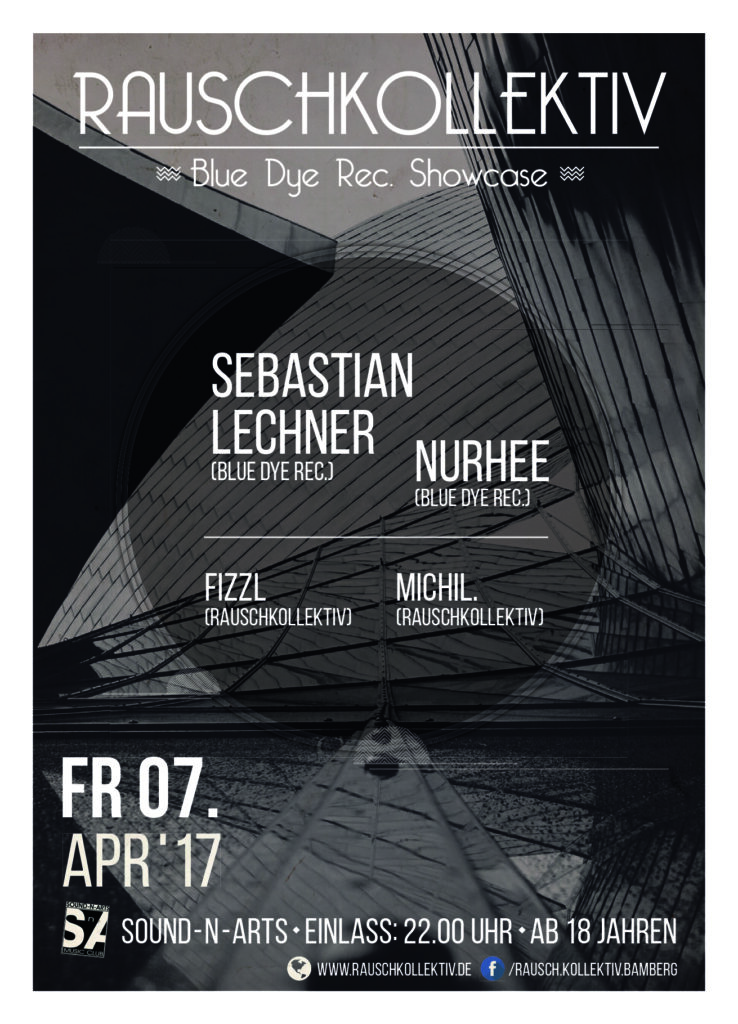 Liebe Freunde des Kollektivs,
Der April steht vor der Tür und mit ihm kommt ein ganz besonderes Showcase. Unser guter Freund Sebastian Lechner, noch bekannt aus dem leider mitlerweile geschlossenen Hundertquadrat in Rosenheim und natürlich kein unbeschriebenes Blatt mehr, hat ein neues Zuhause gefunden. Blue Dye Records München haben den Burschen aufgenommen und werden sich kommenden Monat bei uns präsentieren. Zusammen mit ihm kommt Nurhee ebenfalls Produzent und DJ bei Blue Dye Records und seines Zeichens auch noch Labelboss. Wir freuen uns auf einen guten Freund, eine neue Bekanntschaft und großartigen Sound!
Support gibts von Fizzl und MichiL.
Start: 22:00
Eintritt: 6,-
Mehr zu den Acts:
Blue Dye Rec.:
http://www.blue-dye.de/artists
Sebastian Lechner
About ten years ago, Sebastian Lechner started music career in collaboration with his brother; today, he performs on the most hype electronic music stages.
Born on July 06, 1985 in Prien am Chiemsee, near Munich, Sebastian Lechner made first himself known in Germany as "DJ Brad-Inox". His mixing talent was discovered by Dario Delgado, the owner of "Hunderquadrat" Club in Rosenheim that turned into Sebastian's fist and most productive residency.
His sound than started spreading in all possible geographic directions ("Freaksound" and "Sodaclub" in Salzburg, "Superflow City Beach Club Bangkok" and "Club Culture" in Bangkok, "Full Moon Party" and "Mong Bar" in Thailad, etc.), followed by gigs aside the proper electro-troupers (Extrawelt, Fritz Kalkbrenner, Oliver Koletzki, Mike Väth, Oliver Huntemann, Robert Babicz, Alma Gold, Sascha Braemer etc.) and festivals ("ECHELON Open Air & Indoor Festival", "LOVE-PARADE Club Tour", "Push Electronic Musik Festival", "Zauberwald-Festival", etc.).
In 2013 Sebastian established his own record label "Eichunder". As next he produced specially for ADE's 2015 and 2016 Samplers "Home Boy" and "Shaker Plan", released at Blue Dye Records.
Today, based in Munich, Sebastian Lechner is already known in its best clubs ("Die Bank", "Palais", "Bullitt Club", etc.) and has big plans for the future.
Nurhee
Nurhee started his musical career, when he was quite young, giving his first steps into DJing by the age of 16. He also is running the German label Blue Dye Records. After several releases on different brands within the last decade, Nurhee is defining his own style of electronic underground music again from time to time.
Zum Rauschkollektiv:
https://www.rauschkollektiv.de/
Spread the love!
Datum/Zeit
Date(s) - 7. April 2017 - 8. April 2017
22:00 - 4:00
Veranstaltungsort
Sound N Arts
Kategorien